10/10/2012 IIEA Member News Alert
International Institute for Ecological Agriculture (IIEA)

1) Gas Prices, OPEC, Fracking, and a Post-election Energy Forecast:
David Blume - Two-Hour Special - Coast to Coast Am with George Noory
Tonight 10/10/12 – Midnight to 2:00am Pacific Time
2) In the News: Article Summaries of Note:
3) Help Support IIEA!
1) High Gas Prices and Post-Election Energy Policy Forecasts
Celebrated host George Noory and David Blume get to the bottom of why prices are rising and why that doesn't have to be a problem for your wallet or the world. Help us spread the word! Send the link and news and invite your friends, colleagues, family and fellow clean air breathers to TUNE IN for this important update!
Find your local station or listen online
TONIGHT 10/10/12 - Midnight to 2:00am Pacific Time at:
http://www.coasttocoastam.com/stations
Western US: 1-800-618-8255 (toll free)?
Eastern US: 1-800-825-5033 (toll free)?
First time caller: 1-818-501-4721?
Wild Card line: 1-818-501-4109 (anyone can call) ??
International Instructions ?Toll Free:
(Sprint Direct Access Number)?1-800-893-0903, Press Option 5
Email your questions (or appreciation for having David on) to George:
This program will be available on the Coast to Coast Am archive as well if you miss it tonight.
2) In the News: Article Summaries for News Stories of Note:
October 9, 2012, 3:34 pm
Report: EPA struggling to keep pace with 'fracking' boom
ByBen Geman
Congressional auditors conclude in new reports that the Environmental Protection Agency faces big hurdles overseeing a U.S. oil-and-gas drilling boom that's creating "unknown" long-term health risks.??
One of two Government Accountability Office reports made public Tuesday lays out "challenges" facing regulators amid the growth of hydraulic fracturing, or "fracking," the development method that's enabling major oil and natural-gas production increases.??"Officials at EPA reported that conducting inspection and enforcement activities for oil and gas development from unconventional reservoirs is challenging due to limited information, as well as the dispersed nature of the industry and the rapid pace of development," the report states.
Click to view the complete story: http://thehill.com/blogs/e2-wire/e2-wire/261033-report-epa-struggling-to-keep-pace-with-fracking-boom
###
Biofuels industry lauds automakers for approving higher ethanol fuel blend By Zack Colman - 10/02/12 04:08 PM ET
Ford and General Motors Inc. have approved use of a higher concentration of ethanol fuel in new vehicles — a significant victory for the biofuels industry.
New GM and Ford vehicles will accept a fuel blend that's 15 percent ethanol, as opposed to the standard 10 percent blend. For GM, that will begin with 2012 models, while Ford will accommodate the fuel in 2013 models, according to Oil Price Information Service, which first reported the news.
The auto industry's resistance to higher blends of ethanol — which it says are more corrosive to older engine models — has long been a roadblock in getting higher concentrations of ethanol fuel blends on the market.
Clearing that is important for the biofuels industry, which has said it needs the higher blend, known as E15, to meet a mandate that requires refiners to blend 36 billion gallons of biofuels into traditional transportation fuel by 2022.
"The pressure is now on other auto manufacturers to follow suit or explain why they offer substandard equipment," Monte Shaw, executive director for the Iowa Renewable Fuels Association, said in a Tuesday statement.
Click to read the complete story: http://thehill.com/blogs/e2-wire/e2-wire/259785-biofuels-industry-lauds-automakers-for-approving- higher-ethanol-fuel-blend
###
OPEC Exports Keep Falling - even after Saudi Arabia pledged more exports
Oil tanker, 'Oil Movements', reported today that OPEC exports will fall in the four week period ending on October 20. This continues the slow but steady decline in OPEC exports since about the start of August.
Saudi Arabia pledged to increase its exports a few weeks or so ago to make up for lost exports from Iran. Since the OM report is forward looking, if Saudi Arabia intended to increase exports, the increase should have already been reflected in this report.
LONDON, Oct 4 (Reuters) - Seaborne oil exports from OPEC, excluding Angola and Ecuador, will fall by 370,000 barrels per day (bpd) in the four weeks to Oct 20, an analyst who estimates future shipments said on Thursday.
Exports will reach 23.69 million bpd on average, compared with 24.06 million bpd in the four weeks to Sept. 22, UK consultancy Oil Movements said in its latest weekly estimate.
The Organization of the Petroleum Exporting Countries pumps more than a third of the world's oil. OPEC left oil output limits on hold at its last meeting, held in June.
Click to read the complete story:
http://www.zawya.com/story/OPEC_exports_to_fall_in_4_weeks_to_Oct_20-TR20121004nL6E8L4KU43/
###
COURT DISMISSES LAWSUIT AGAINST E15
Aug. 20, 2012 National Corn Growers Association (NCGA) reports: The U.S. Appeals Court ruled on Friday to dismiss a lawsuit against the U.S. Environmental Protection Agency for its approval of E15.
The National Corn Growers Association is pleased with the decision and supports the use of E15 for vehicles of model year 2001 or newer. The original suit was filed by petroleum, engine, and grocery trade associations claiming the new ethanol and gasoline blend would cause damage to engines.
"Today's decision by the Court of Appeals clarifies the known facts about the safe use of E15," NCGA President Garry Niemeyer said. "This sets the stage for consumers to have more choices at the pump. In addition, the expanded use of ethanol will continue to create jobs and help strengthen America's rural economy."
The EPA began testing the use of E15 on vehicles in March 2009. A combined six million miles have been driven and analyzed since the initial waiver. The ethanol industry currently directly employs 70,000 Americans, many in rural America. In addition, the use of ethanol has reduced gas prices by roughly 89 cents per gallon, decreasing the average household's gasoline bill by roughly $800 per year.
###
3) Help Support IIEA's work!
Are you concerned about ever increasing fuel and energy bills?
Are you tired of seeing the Oil Cartel claim bigger and bigger quarterly profits at the expense of our environment and health?
Are you tired of seeing our money and manufacturing jobs get exported out of our communities and country?
Do you believe abundant food, fuel and jobs are our REAL Homeland Security?
Good News! You are not alone and you can be a key part of the energy independence revolution!
David Blume and IIEA make it easy for you to learn to produce alcohol fuel locally that:
Costs less than 50 cents a gallon to make.
Is 98% emission-free and carbon-neutral.
Can be used to power transportation as well as cooking and electrical production.
Will create permanent non-exportable jobs for Oregon.
Tune into the Coast to Coast am broadcast and find out about a special offer for program listeners that will make it easy and money saving to support the Alcohol Energy revolution that is under way all over the world.
Please take this opportunity to give a friend, loved-one, colleague, key community contact (or yourself) a gift of knowledge and hope. Buy them a copy of Alcohol Can Be A Gas! or one of our new DVD's.
The best present we could give David is having your help spreading the truth about appropriate scale bioethanol's potential to solve our energy problems for now and the imaginable future. Select from our special offers below.
2012 Jump Start Specials:http://www.alcoholcanbeagas.com/store/videos
New DVDs and THE book on Alcohol Fuel available!
Gifts that Give a Future
DVD pack
Buy two for $25.00 each and get a 3rd free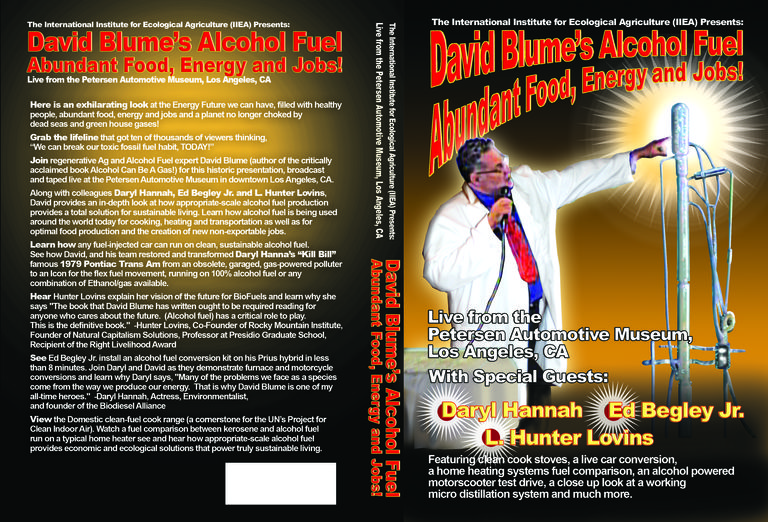 Live In LA– A two-hour bonanza of information on the business opportunities for and uses of appropriate-scale alcohol fuel. Demos include:
• Ed Begley Jr. installing alcohol fuel conversion kit on his 2000 Toyota Prius
• Daryl Hannah talking about the complete alcohol fuel and eco-makeover of her Kill Bill famous 1979 Pontiac Tans Am
• Alcohol fuel cookstove
• Kerosene furnace burner running on alcohol fuel
• An Alcohol Fuel business opportunity presentation by L. Hunter Lovins – President, Natural Capital Solutions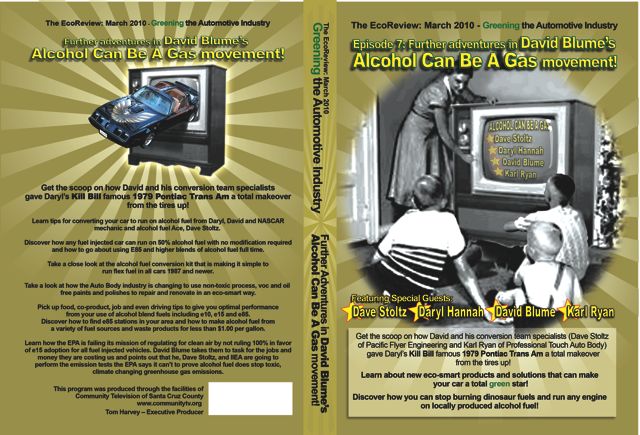 Green Auto – The EcoReview: Greening of the Auto Industry
An hour long interview and behind the scene look at how David Blume and a top team of mechanics and body work specialists transformed Daryl Hannah's Kill Bill movie-famous 1979 Pontiac Trans Am from a gas guzzling garage ornament to a totally green road rocket powered by alcohol fuel and featured at media appearances as well as the New Living Expo in San Francisco. Disc features:
· A look at the "Green" body restoration work done by Karl Ryan owner- Professional Touch Auto Body, Scotts Valley CA
· A talk with engine conversion specialist and lead mechanic Dave Stoltz - Pacific Flyer Engineering, Auburn CA
· A discussion with Daryl Hannah and David Blume about the benefits and practicality of running all our cars, not just classic street rods, on readily available alcohol fuel
Alcohol can be a gas!
A two and a half hour comprehensive talk by regenerative Ag and Biofuel production expert David Blume that covers his critically acclaimed and Amazon.com best selling book "Alcohol Can Be A Gas!
This DVD includes:
· Alcohol fuel demonstrations
· Anti-alcohol fuel Myth busting explanations
· A comprehensive discussion of potential fuel stocks, surplus and waste stream resources to use in making alcohol fuel for less than a dollar a gallon
· A discussion of developing high-return byproducts that increase revenue and work opportunities for fuel producers dramatically
From the Pen of David Blume: The 600 page definitive guide to Regenerative Ag and appropriate-scale alcohol fuel production with over 450 citations, illustrations, design blueprints and a complete ATF Permit for your own still system.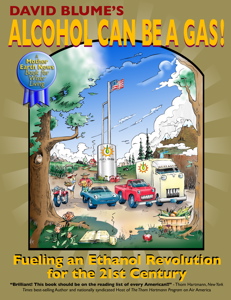 Alcohol Can Be A Gas! The resource for transforming our energy future!
Publisher's Special $59.00
Get a Hard Cover personally autographed edition of this must read guide, purchase includes a Free DVD selected from the titles listed above
Soft cover edition available as well for $49.95
Alcohol Can Be A Gas! is the benchmark resource for people interested in producing their own clean, renewable appropriate-scale alcohol fuel for personal or commercial use for as little as 50 cents a gallon. You can use the fuel to completely replace your current gas habit! This encyclopedia offers detailed insight on every aspect of alcohol fuel production beginning with the origins of alcohol fuel use and production. Its 600 illustrated pages provide an entertaining and informative resource covering:
Land assessment and use strategies
Crop and fuel-stock sources
Fermentation
Distillation
Methods for developing high-value byproducts that stem from making your own alcohol fuel
Uses for alcohol fuel (cooking, heating, refrigeration, electrical production and transportation)
Engine conversion mechanics
Permits and governmental requirements for producing home or commercial scale fuel
This is the primer for real energy independence and sustainable community development!
Give yourself the opportunity to produce your own homeland security. Produce your own: abundant food and clean water, fuel for energy, transportation cooking and heating, and non-exportable job opportunities.
About the book:
"Brilliant! This book should be on the reading list of every American!!" -Thom Hartmann,New York Times bestselling Author and nationally syndicated Host of The Thom Hartmann Program on Air America??
"Many of the problems we face as a species come from the way we produce our energy. That is why David Blume is one of my all-time heroes." -Daryl Hannah,Actress, Environmentalist, and founder of the Biodiesel Alliance??
We are changing our energy future. Ours is a great journey forward to do so much better with what we have!
Thank you for caring
The IIEA team
No workshops are currently scheduled.