11/08/2013 IIEA Member News Alert
International Institute for Ecological Agriculture (IIEA)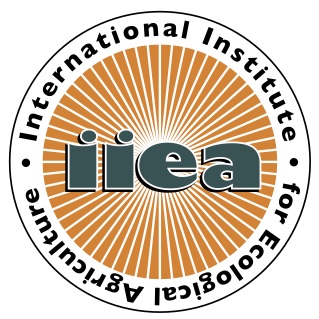 News and Events Update
Upcoming Dave Blume Interviews and Talks

News Links To Articles Worth Reading

Support IIEA
Greetings Dear Friends and Alcohol Fuelers:
What an exciting Fall we are having. At IIEA we are greatly encouraged by much of the energy news recently, ranging from the Supreme Court ruling dismissing the American Petroleum Institutes' attempts to overturn the current e15 standard, to the EPA's reported plans to bump the blend standard to e30 (yes, 30% clean and locally produced alcohol fuel in our tanks) in 2014. We are seeing many positive indicators that the fuel transition from oil slick to local brew is well under way.
Included in this alert are some clips that will help you catch up on some of the more relevant news and events that have taken place recently. We are also excited to share the news that after a brief hiatus, David will be back on Coast-to-Coast AM with John Wells this coming Saturday 11/9/13. Additionally, David will be on KSFR 101.1 FM public radio in Santa Fe New Mexico and North Bay Uprising 89.5 FM in Vallejo, CA (see the listings below for dates, times and listen live options).
There is too much important news to cover in this short alert, making it even more important for you to tune in to Dave's scheduled interview broadcasts. Please tell your friends, family and colleagues to do the same. Of course we will archive the clips at www.alcoholcanbeagas.com, but there is nothing like catching Dave live. All of these programs welcome listener call-ins and your questions, comments or encouragement are important support for all to hear out on the airwaves.
1) Blume Interviews
Saturday November 9th!
Fukushima Daiichi: What You Need to Know Now!
and David's Alternative Energy Plan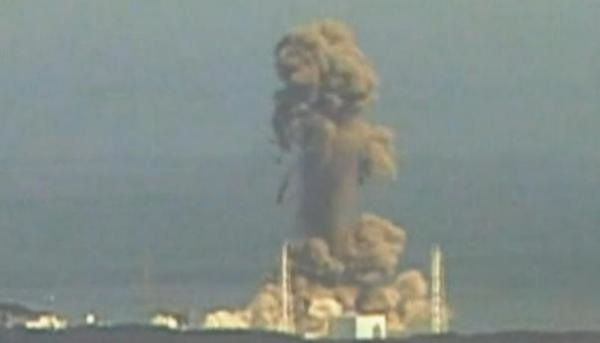 David on Coast-to-Coast AM with Host John Wells
Saturday 11/09/13 - 11:00pm Pacific Time (Sunday 11/10 2:00am ET)
Celebrated host John Wells and David Blume uncover the hidden news about current events at Fukushima Daiichi including new tsunami effects, the continued meltdown and the thousands of Japanese citizens being forced to move home to an area of intolerable radiation levels by a Government nearly bankrupted by dealing with unmanageable nuclear waste clean up. Help us spread the word! Send the link and news and invite your friends, colleagues and fellow clean air breathers to TUNE IN for this important update
Find your local station or listen online:
Saturday night 11/09/13 –11:00pm Pacific Time at: http://www.coasttocoastam.com/stations
Western US: 1-800-618-8255 (toll free)?
Eastern US: 1-800-825-5033 (toll free)?
First time caller: 1-818-501-4721?
Wild Card line: 1-818-501-4109 (anyone can call) ??
International Instructions ?Toll Free:
(Sprint Direct Access Number)?1-800-893-0903, Press Option 5
Email your congratulations and thanks to John Wells for his program and helping spread the truth about alcohol fuel with David Blume:
If you happen to miss this live program it will be available on the Coast-to-Coast Am archive as well as at www.alcoholcanbeagas.com.
Thursday November 14th
Localized Energy: The Real Opportunity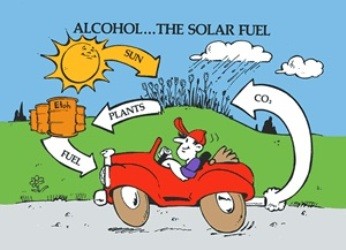 David on Santa Fe Public Radio
KSFR 101.1 Living on the Edge:
With Xubi Wilson and Dave Bacon
Thursday, November 14th: 4:00pm MT (3:00pm PT, 6:00pm ET)
Click here to listen live http://ksfr.org/programs/living-edge
Thursday, December 5th
Taking Back Our Energy: Powering Sustainable Communities with Clean Alcohol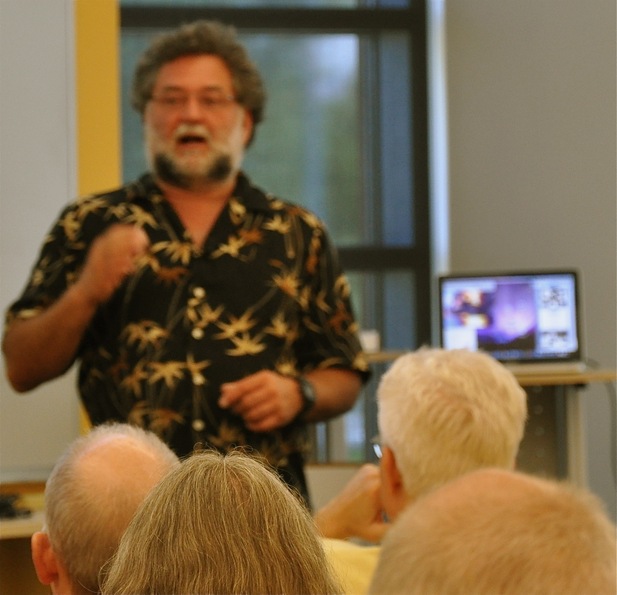 David on Northbay UPrising 89.5fm in Vallejo, CA
With Dr. G
A look at positive and community-oriented programs that can help establish clear transition pathways for a nuclear and fossil fuel free era!
Click hear to listen: http://Northbaymorningshow.blogspot.com[http://tunein.com/radio/Ozcat-Radio-895-s130679/], and in Vallejo at 89.5FM KZCT courtesy of Ozcatradio.com
Presented by "San Pablo Bay Sovereignty", a think-tank for communitarian solutions towards long-term sustainability! http://SovereignSanPabloBay.blogspot.com
2) News Worth Knowing (excerpts of news, click links to read entire articles)
October 17, 2013 10:09 AM
WHO agency: Air pollution causes cancer
By MARIA CHENG
http://news.yahoo.com/agency-air-pollution-causes-cancer-093059748.html
LONDON (AP) — What many commuters choking on smog have long suspected has finally been scientifically validated: air pollution causes lung cancer.
The International Agency for Research on Cancer declared on Thursday that air pollution is a carcinogen, alongside known dangers such as asbestos, tobacco and ultraviolet radiation. The decision came after a consultation by an expert panel organized by IARC, the cancer agency of the World Health Organization, which is based in Lyon, France.
"The air most people breathe has become polluted with a complicated mixture of cancer-causing substances," said Kurt Straif, head of the IARC department that evaluates carcinogens. He said the agency now considers pollution to be "the most important environmental carcinogen," ahead of second-hand cigarette and cigar smoke.
IARC had previously deemed some of the components in air pollution such as diesel fumes to be carcinogens, but this is the first time it has classified air pollution in its entirety as cancer causing.
September 11, 2013, Rome
Food waste harms climate, water, land and biodiversity – new FAO report
http://www.fao.org/news/story/en/item/196220/icode/
Direct economic costs of $750 billion annually – Better policies required, and "success stories" need to be scaled up and replicated.
The waste of a staggering 1.3 billion tonnes of food per year is not only causing major economic losses but also wreaking significant harm on the natural resources that humanity relies upon to feed itself, says a new FAO report. ??Food Wastage Footprint: Impacts on Natural Resourcesis the first study to analyze the impacts of global food wastage from an environmental perspective, looking specifically at its consequences for the climate, water and land use, and biodiversity.??
Among its key findings: Each year, food that is produced but not eaten guzzles up a volume of water equivalent to the annual flow of Russia's Volga River and is responsible for adding 3.3 billion tonnes of greenhouse gases to the planet's atmosphere. ??And beyond its environmental impacts, the direct economic consequences to producers of food wastage (excluding fish and seafood) run to the tune of $750 billion annually, FAO's report estimates.
July 9, 2013
Quebec Train Crash: 40 Still Missing In Oil Tanker Blast
AP | By BENJAMIN SHINGLER
http://bigstory.ap.org/article/quebec-police-more-oil-train-deaths-expected
LAC-MEGANTIC, Quebec -- A Quebec town devastated when a runaway oil tanker train ignited explosions and fires braced Monday for what authorities assured would be a rising death toll as fire crews tried to reach the hardest hit areas more than two days after the disaster. Five were dead and about 40 people remained missing.
The growing number of trains transporting crude oil in Canada and the United States had raised concerns of a major derailment, and this one was sure to add to the debate over a proposed cross-U.S. oil pipeline that Canada says it badly needs. All but one of the train's 73 tanker cars were carrying oil when they somehow came loose early Saturday morning, sped downhill nearly seven miles (11 kilometers) into the town of Lac-Megantic, near the Maine border, derailed and began exploding one by one. At least five blew.
Worries remained late Sunday over the status of two oil-filled train cars at the scene. They were being doused with water and foam to keep them from overheating.
"This is an unbelievable disaster," said Canadian Prime Minister Stephen Harper, who toured the town Sunday and compared it to a war zone. "This is an enormous area, 30 buildings just completely destroyed, for all intents and purposes incinerated. There isn't a family that is not affected by this."
"We've had a very good safety record for these 10 years," said Edward Burkhardt, the president and CEO of Rail World Inc., the parent company of Montreal, Maine & Atlantic Railway. "Well, I think we've blown it here."
Associated Press writer Rob Gillies and Charmaine Noronha contributed from Toronto.
Monday June 24, 2013
U.S. justices reject challenge to higher ethanol blend
Source: Reuters - Mon, 24 Jun 2013 07:03 PM Author: Reuters
WASHINGTON, June 24 (Reuters) - The U.S. Supreme Court on Monday rejected a challenge by oil and food industry groups to sales of a higher blend of ethanol allowed by the Environmental Protection Agency.
The U.S. ethanol industry, which mostly makes fuel from corn, has pushed for E15, which contains 15 percent ethanol versus the traditional blend containing 10 percent.
It celebrated when the EPA in 2011 expanded use of E15 to cars built since the 2001 model year, which now comprise about two-thirds of the cars on the road in the United States.
But the EPA's move angered the American Petroleum Institute, the Grocery Manufacturers Association and other industry groups. They filed a petition this year to the Supreme Court to overturn a lower court's decision upholding sales of the higher blend.
Monday's decision disappointed the oil refining industry which has also complained E15 can damage engines in boats, outdoor equipment, and older cars.
"The Supreme Court's decision denies the petitioners their day in court and will have negative repercussions for consumers," said Charles Drevna, the president of the American Fuel and Petrochemical Manufacturers industry group.
Ethanol groups applauded the rejection of the challenge. The decision clears the way for more fuel options for U.S. drivers, said Jeff Lautt, the CEO of POET, one of the world's largest ethanol producers. "We think drivers deserve reliable choices at the pump," he said. (Reporting by Timothy Gardner, editing by Ros Krasny, Bernard Orr)
http://www.trust.org/item/20130624190344-okw69/
EcoReview, Tuesday May 28, 2013
With Auto Restoration and Ethanol Conversion Mechanic Dave Stoltz and Marc Rauch: EOC- the Auto Channel
Topics: The Renewable Fuel Standard: the EPA goes for e30, Better Fuels and ways to run our vehicles and Market news for advanced biofuels
Archived on Vimeo:
Is small-scale, distributed ethanol production for you?
An overview of the Blume Distillation opportunity by an industry market analyst.
Reported by: BioInvestDigest
http://www.biofuelsdigest.com/bioinvest/is-small-scale-distributed-ethanol-production-for-you/
If you have followed the career of David Blume from ethanol to The International Institute for Ecological Agriculture and back again, including his entertaining 2007 opus Alcohol Can Be a Gas! you may be mildly surprised but not astonished to learn that his company Blume Distillation has raised $2.2 million in a Series A financing roundfor a business that produces appropriate-scale alcohol fuel systems.
3) Help Support David Blume's work!
If you are concerned about ever increasing fuel and energy bills, tired of seeing the Oil Cartel claim bigger and bigger quarterly profits at the expense of our environment and health, tired of seeing our money and manufacturing jobs get exported out of our communities and country and if you believe abundant food, fuel and jobs are the TRUE Homeland Security? Here is some Good News:
You are not alone and you can be a key part of the energy independence revolution!
David's new company Blume Distillation is providing participation opportunities to people all over the globe who want to invest in ending global deforestation, climate change, energy poverty and who are wanting to accelerate the transition to abundant local food, clean water, fuel, energy and non-exportable jobs.
Blume Distillation is making it possible for small business entrepreneurs, farmers, food processing companies and Municipalities to produce appropriate scale alcohol fuel locally that:
Costs less than 50 cents a gallon to make.

Is 98% emission-free and carbon-neutral.

Can be used to power life-critical applications including: emission free indoor cooking and electrical generation, nonelectrical refrigeration as well as transportation needs.
If you have an interest in finding our more about Blume Distillation opportunities please contact Tom Harvey tharvey@blumedistillation.comor visit the Blume Distillation Website, www.blumedistillation.comfor more information.
With the Holidays approaching, please take this opportunity to gift a friend, loved-one, colleague, key community contact (or yourself) with a gift of knowledge and hope. Buy them a copy of Alcohol Can Be A Gas! or one of our new DVD's.
Having your help spreading the truth about appropriate scale bioethanol's potential to solve our energy problems for now and the imaginable future is absolutely important and it will make a positive difference!
Jump Start Specials:http://www.alcoholcanbeagas.com/store/videos
New DVDs and THE book on Alcohol Fuel available!
Gifts that Give a Future
DVD pack
Buy two for $25.00 each and get a 3rd free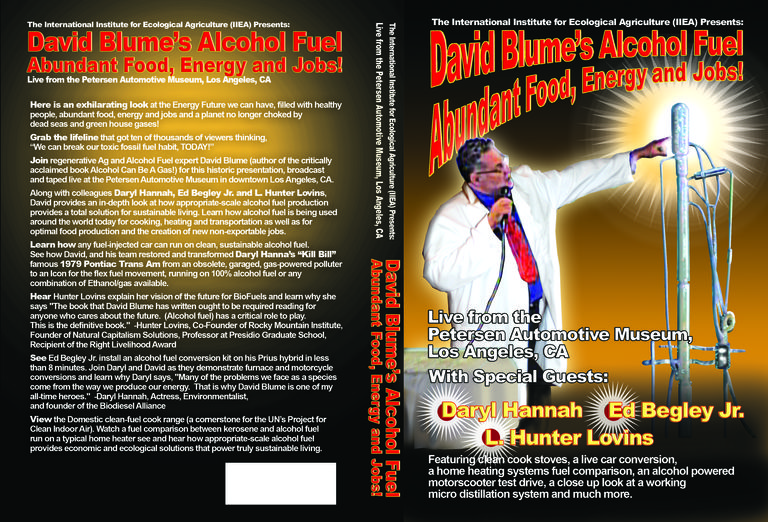 Live In LA– A two-hour bonanza of information on the business opportunities for and uses of appropriate-scale alcohol fuel. Demos include:
Ed Begley Jr. installing alcohol fuel conversion kit on his 2000 Toyota Prius

Daryl Hannah talking about the complete alcohol fuel and eco-makeover of her Kill Bill famous 1979 Pontiac Tans Am

Alcohol fuel cookstove

Kerosene furnace burner running on alcohol fuel

An Alcohol Fuel business opportunity presentation by L. Hunter Lovins – President, Natural Capital Solutions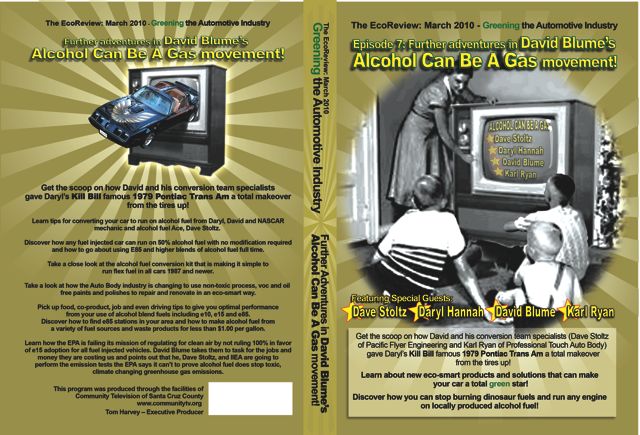 Green Auto – The EcoReview: Greening of the Auto Industry
An hour long interview and behind the scene look at how David Blume and a top team of mechanics and body work specialists transformed Daryl Hannah's Kill Bill movie-famous 1979 Pontiac Trans Am from a gas guzzling garage ornament to a totally green road rocket powered by alcohol fuel and featured at media appearances as well as the New Living Expo in San Francisco. Disc features:
A look at the "Green" body restoration work done by Karl Ryan owner- Professional Touch Auto Body, Scotts Valley CA

A talk with engine conversion specialist and lead mechanic Dave Stoltz - Pacific Flyer Engineering, Auburn CA

A discussion with Daryl Hannah and David Blume about the benefits and practicality of running all our cars, not just classic street rods, on readily available alcohol fuel
Alcohol can be a gas!
A two and a half hour comprehensive talk by regenerative Ag and Biofuel production expert David Blume that covers his critically acclaimed and Amazon.com best selling book "Alcohol Can Be A Gas!
This DVD includes:
Alcohol fuel demonstrations

Anti-alcohol fuel Myth busting explanations

A comprehensive discussion of potential fuel stocks, surplus and waste stream resources to use in making alcohol fuel for less than a dollar a gallon

A discussion of developing high-return byproducts that increase revenue and work opportunities for fuel producers dramatically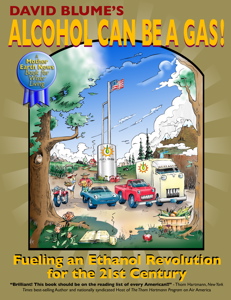 Alcohol Can Be A Gas! The resource for transforming our energy future!
The hallmark book from David Blume: The 600 page definitive guide to Regenerative Ag and appropriate-scale alcohol fuel production with over 450 citations, illustrations, design blueprints and a complete ATF Permit for your own still system.
Publisher's Special $59.00
Get a Hard Cover personally autographed edition of this must read guide, purchase includes a Free DVD selected from the titles listed above
Soft cover edition available as well for $49.95
Alcohol Can Be A Gas! is the benchmark resource for people interested in producing their own clean, renewable appropriate-scale alcohol fuel for personal or commercial use for as little as 50 cents a gallon. You can use the fuel to completely replace your current gas habit! This encyclopedia offers detailed insight on every aspect of alcohol fuel production beginning with the origins of alcohol fuel use and production. Its 600 illustrated pages provide an entertaining and informative resource covering:
Land assessment and use strategies

Crop and fuel-stock sources

Fermentation

Distillation

Methods for developing high-value byproducts that stem from making your own alcohol fuel

Uses for alcohol fuel (cooking, heating, refrigeration, electrical production and transportation)

Engine conversion mechanics

Permits and governmental requirements for producing home or commercial scale fuel
This is the primer for real energy independence and sustainable community development!
Give yourself the opportunity to produce your own homeland security. Produce your own: abundant food and clean water, fuel for energy, transportation cooking and heating, and non-exportable job opportunities.
About the book:
"Brilliant! This book should be on the reading list of every American!!" -Thom Hartmann, New York Times bestselling Author and nationally syndicated Host of The Thom Hartmann Program on Air America??
"Many of the problems we face as a species come from the way we produce our energy. That is why David Blume is one of my all-time heroes." -Daryl Hannah,Actress, Environmentalist, and founder of the Biodiesel Alliance??
Please help us transform our energy future. This is an important step forward to doing so much better for our planet and us!
On to Abundance!
The IIEA team
No workshops are currently scheduled.